Custom made stair treads
Is your required stair tread size unavailable in our standard selection? We offer customized stair treads for every application with a very competitive price / quality ratio.
Not quite sure which material choice is suitable for your application? In terms of material choice, we can supply galvanized steel steps, stainless steel steps in alloy 304 and 316 and aluminum stair steps. Not entirely sure which material choice is suitable for your application? Contact us!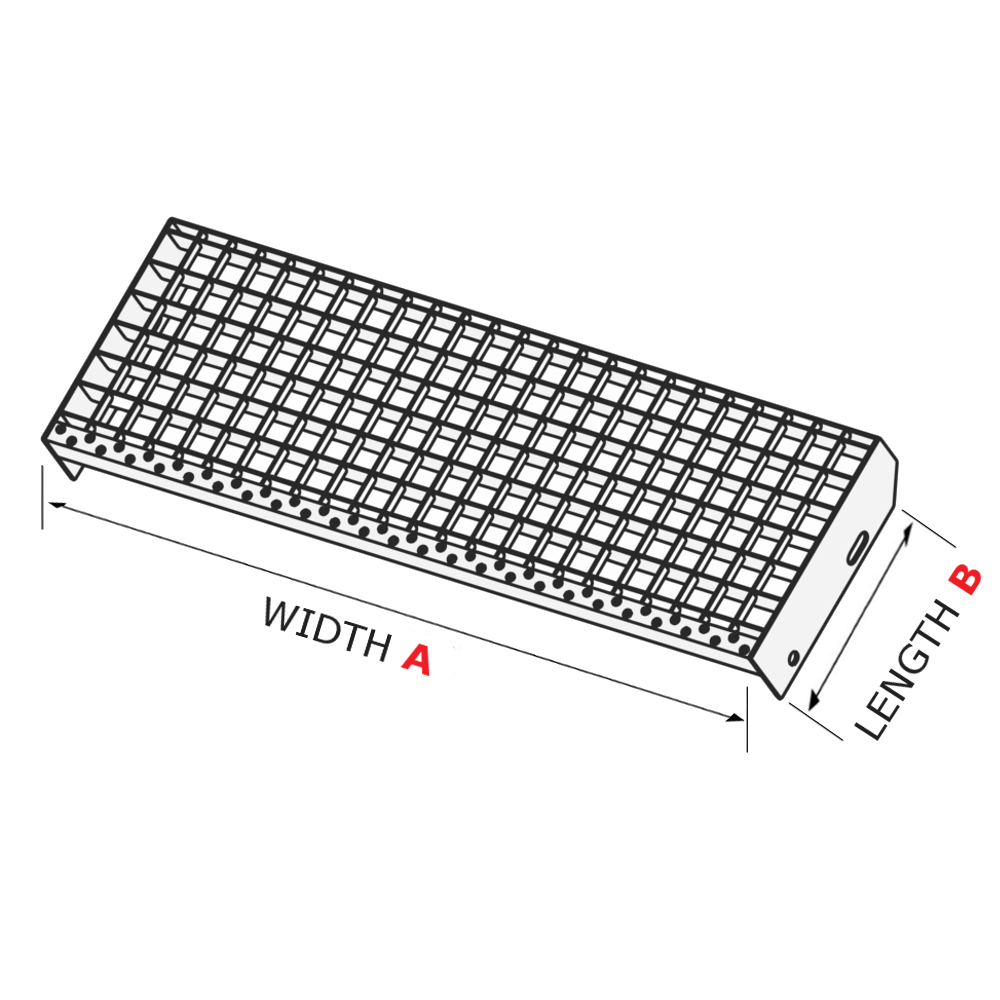 Possibilités
The dimensions of your custom stair tread can be freely determined. Some guidelines: steps with a width up to 1200mm are standard, steps with a width up to 2 meters are possible, but making broader steps is often impractical and expensive – most manufacturers opt for less wide steps with an extra stringer. For the length or depth of the tread, a maximum depth of 305mm is recommended for a convenient step. Apart from these guidelines, it's essentially possible to add end plates and a anti-slip nosing on a grating of any size, if your project requires it.
The height or thickness of the load bearing bars of the tread is generally adapted to the width of the tread for safety reasons. If you have any specific requirements we'll be happy to accomodate you.
The mesh size can also be made according to your needs. The smallest possible mesh size is 11x11mm, going up incrementally by 11mm, so 22x22mm, 33x33mm, 44x44mm etc. to a maximum of 99x99mm. Needless to say while possible, this isn't very practical for a stair tread. A rectangular mesh is also possible. A grid with diagonal meshes is possible in principle, but not the cheapest option – the tread has to be made from a larger grating in order to obtain a diagonal mesh pattern. Various perforations are also possible.
Anti-slip options are recommended in situations with a dangerously high risk of slippage – single anti-slip, where notches are added on the load bearing bars or cross bars, and double anti-slip where notches are added on both the load bearing bars and cross bars. This is ofcourse in addition to the inherently formidable anti-slip function of the stair tread nosing.
The end plate or hole pattern can be adjusted to your need, such as the dimensions of the end plate or changes or additions to the mounting holes. We can also offer spigot steps for a spiral staircase.

We hold our grating and stair treads to the strictest requirements, in both safety and quality, from the price quote to the delivery.
When planning your project, we recommend taking into account a delivery time of 15-20 working days.
For requests with multiple grating of different sizes feel tree to email us via info@gratingshop.com, for larger projects please provide us with clear working drawings so we can provide an accurate price quote.